Keeping impulses in check
These books will help adults and children talk about the hard job of learning to think ahead before acting on impulse. Even with the best of intentions, children can find themselves in trouble when they act impulsively. So parents and teachers use diverse methods to try to teach the importance of thinking before acting. Reading and discussing stories can be an effective way of communicating this lesson. The following children's books provide examples, both familiar and fantastical, of the importance of impulse control—and how difficult it can sometimes be.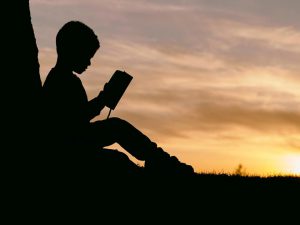 Goldilocks and the Three Bears, story retold by Jim Aylesworth, illustrations by Barbara McClintock. Goldilocks sometimes forgets to do things her mother tells her to do—and forgets to avoid the things that her mother tells her not to do. Though her mother warns her not to go into the woods, Goldilocks forgets. She impulsively follows a butterfly and a bird and is soon at the forest home of three bears. Without thinking, she enters, tries their porridge, sits in their chairs, and naps in their beds. When the bears come home, she is forced to escape. Afterwards she may still forget to do the things her mother tells her to do, but Goldilocks tries never to forget the things her mother tells her not to do. This familiar folktale reminds children of the dangers of not thinking through their actions and of forgetting the rules. Ages four to seven. (Scholastic Press, 2003)
Me First, story by Helen Lester, illustrations by Lynn M. Munsinger. Pinkerton is a plump, pink, and pushy pig who always wants to be first. Without thinking he rushes to be in front, "even if it meant bouncing off bellies, stepping on snouts, or tying tails." But when his scout troop goes to the beach and his impulsive "me first" behavior has unfavorable consequences, Pinkerton learns a valuable lesson. Lester and Munsinger's charming, comical picture book provides a great example of the danger in acting too impulsively. Ages four to seven. (Walter Lorraine Books, 1995)
When It's the Last Day of School, story by Maribeth Boelts, illustrations by Hanako Wakiyama. Before his last day of school, James plans on doing right all the things he may have impulsively done wrong during the year. He'll pay attention in class; he won't burp and talk at the same time; and he won't talk during silent reading. He plans to behave perfectly until the last day of school ends, then summer will start and he can "explode." Young readers will sympathize with James' intentions and relate to his plight. Ages five to seven. (G.P. Putnam's Sons, 2004)
Watch Out!
, story and illustrations by
Jan Fearnly
. Wilf, the little brown mouse, is "full of busy." He loves to run, skip, climb, play, and jump. He is so busy that sometimes he forgets to listen to his mother and gets into trouble. Though Wilf doesn't always do the right thing, he wants to make his mother happy and, at the end of the day, he busily makes her a card and supper. When he gives them to her, she gets so excited that she forgets to listen. Fearnly's story helps to show that, though being "full of busy" can be frustrating to others, it does not always have bad intent and can happen to anyone. Ages four to seven. (Candlewick Press, 2004)
If You Give a Mouse a Cookie, story by Joffe Numeroff, illustrations by Felicia Bond. In this popular picture book for young children, a boy becomes exhausted trying to fulfill the impulsive requests of a mouse. Once he gives the mouse a cookie, the mouse soon wants milk, then a straw, then a napkin, and on and on until he's back to wanting a cookie. While not taking it too seriously, this comic story shows its young readers the difficulty of fulfilling the spontaneous desires of impulsiveness. Ages three to six. (Laura Geringer Books, 1985)
Beyond sugar & spice, snakes & snails
Gender stereotypes in our culture—reinforced by parents' expectations and other kids' comments—ignore the unique personality of every child. The girls and boys in these books challenge stereotypes, expose the hurt they cause, and show the importance of staying true to oneself.
Horace and Morris but Mostly Dolores, story by James Howe, illustrations by Amy Walrod. Horace, Morris, and Dolores are friends—until the boys decide that "a boy mouse must do what a boy mouse must do" and join the all-male Mega-Mice club. So Dolores decides that "a girl mouse must do what a girl mouse must do" and joins the all-girl Cheese Puffs club. But they're unhappy doing what they "must" do and worried about their friendship—until Dolores finds a solution. These three friends show that likes and dislikes are not based on gender. Ages four to seven. (Atheneum Books for Young Readers, 1999)
Grace for President,
 story by Kelly DiPucchio,  illustrations by LeUyen Pham. When she sees the all-male poster of U.S. presidents, Grace is shocked. She decides that she will be president. In the school election, she campaigns hard against the popular Thomas, who figures he'll win because there are more boys than girls. Then Sam, representing Wyoming, chooses the best
 person
 for the job. This story will inspire children to look beyond gender, in their leaders and themselves. Ages four to seven. (Hyperion Books for Children, 2008)
Elena's Serenade, story by Campbell Geeslin, illustrations by Ana Juan. Elena's father is a glassblower, so she asks him to teach her the trade. He responds, "Who ever heard of a girl glassblower?" Angry and sad, Elena runs away to learn from the legendary glassblowers in Monterrey, discovering on the journey how to make beautiful music as well as glass with her long pipe. Children will be inspired by Elena's courage to be who she wants to be. Ages four to seven. (Atheneum Books for Young Readers, 2004)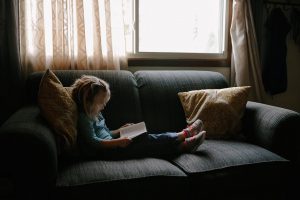 Oliver Button is a Sissy, story and illustrations by Tomie dePaola. Because Oliver Button prefers reading, drawing, and dancing to playing ball, the other boys call him a sissy. When he begins dance classes, someone writes, "Oliver Button is a Sissy" on the school wall. But Oliver enjoys tap dancing, practices hard, and performs in the town's talent show.  Then, when he doesn't win, Oliver doesn't want to go back to school. When he does, though, he is surprised to see that the school wall now reads, "Oliver Button is a Star." This story celebrates one boy's uniqueness while reminding readers of the pain that teasing causes. Ages four to seven. (Harcourt Inc, 1979)
Allie's Basketball Dream, story by Barbara E. Barber, illustrations by Darryl Ligasan. Allie wants to be a basketball player. When her father buys her a basketball and takes her to the park to practice, she is eager and excited. She gets discouraged when she misses shots and friends tell her basketball isn't for girls. But she keeps practicing, makes baskets—and convinces friends to join in the fun. Both boys and girls will relate to Allie's frustrations in practicing and will be inspired by her determination. Ages four to seven. (Lee & Low Books, Inc, 1996)
Bedtime
Childhood—and adult—friendships include their share of arguments, fights, and other conflicts. Learning ways to work together to resolve these conflicts is a valuable life lesson. The following children's books demonstrate the different ways friends can get into conflicts—and a variety of ways to resolve them.
Sorry, story by Jean Van Leeuwen, illustrations by Brad Sneed. Two brothers, Ebenezer and Obadiah, happily share chores on a farm until one winter morning when Obadiah complains that there are lumps in his oatmeal. Insulted, Ebenezer tosses the bowl onto his brother's head. Now both brothers are so angry that they split up the house and create two farms with a stone wall between them. They both marry, have children, grandchildren, even great-grandchildren. None of them speak to each other, though they can't remember why. One day at the stone wall, one brother's great-grandson accuses the other's of stealing an apple. The boy quickly says, "Sorry!" The two decide to share the apples and spend the afternoon laughing together. This folksy story reveals the ridiculous results of stubbornness and shows how an apology can quickly end a feud. Ages five to seven. (Phyllis Fogelman Books, 2001)
Luka's Quilt, story and illustrations by Georgia Guback. Luka, the young Hawaiian narrator in this story, is very close to her grandmother, Tutu. They enjoy doing many activities together until, one day, making a floral quilt, they get into an argument. Tutu insists the traditional quilt should include only two colors. Luka wants more. When Luka insults the quilt, Tutu gets upset and they stop talking to each other. A few days later, however, Tutu declares a truce so they can both enjoy Lei Day. She explains that a truce is when people put aside their differences for a while. During the truce, they both have a good time. Tutu lets Luka make a nontraditional lei of many colors, inspiring them to create another colorful lei made of quilt materials. This charming tale demonstrates the benefits of putting aside differences. Ages four to seven. (Greenwillow Books, 1994)
Number Uno
, story by Alex and Arthur Dorros, illustrations by Susan Guevara. Socrates is intelligent and Hercules is strong. Each constantly argues that his gift makes him the most important person in their small village. When the villagers are building a bridge, they ask for help from both of them but grow so tired of their argument that they send them away for three days while they decide who is most important. After three days of arguing, the two return. The villagers have decided that both are equally important but only when they work together. Ages four to seven. (Abrams Books for Young Readers, 2007)
The Hating Book, story by Charlotte Zolotow, illustrations by Ben Shecter. The young girl who narrates this story says she hates her friend. She tells her mother that her friend ignores her, won't sit with her, and doesn't pick her for teams. The mother suggests asking why but the girl refuses. Finally, she is convinced to confront her friend, who explains that she had thought (mistakenly) that the narrator had insulted her dress. Talking through the misunderstanding, the two quickly make up. This story shows how miscommunication can escalate into an emotional conflict and how talking through them can be the solution. Ages three to six. (Harper Trophy, 1969)
Fishing for Methuselah, story and illustrations by Roger Roth. Though Ivan and Olaf have always been best friends, they've spent their lives trying to outdo each other. In the Winter Carnival, they plan to compete in the Ice Sculpture Contest and, most importantly, the Ice Fishing Contest. Setting out to catch Methuselah, the biggest fish, their competitiveness leads them too far out on the ice. With a little help from Methuselah, the ice breaks and the friends are soon fighting for their lives—together. With a little help from Methuselah, again, they make it back safely. In honor of the great fish, they collaborate on a sculpture of Methuselah and win the contest together. Ages five to seven. (Harper Collins, 1998)